How you Work Influences Which Cloud Platform is Best for You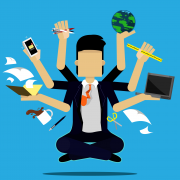 Both G Suite (Google Apps) and Microsoft Office 365 provide cloud productivity tools and a foundation for a productive cloud ecosystem. Several factors influence which cloud is best for you. Having discussed culture clash and line of business apps in past posts, I want to focus on how you — and your team — work.
Question to Ask When Deciding Which Cloud Platform is Best
How much work is on-site? How much needs to be on-site?
How often is work done while mobile/remote? How critical is this work?
What is the balance between individual and team assignments?
Are teams a collection of individuals working on their own assignments or a collaborative group?
Are teams organized according to the organization hierarchy or by purpose, goal, or function?
Does your team need, or have, access to data from line of business systems?
How often is "copy/paste" or data re-entry a part of your workday?
These questions, and others, highlight that how we work as individuals and teams can vary greatly.
Other Ways to Determine Which Cloud Platform Is Better For Your Business
Organizations with higher numbers of mobile users, for example, tend to prefer ease of individual access to files over hierarchical organization.
Collaborative teams thrive when they have ready access to chat, video conferencing, co-editing, and social tools, whereas teams of individual contributors tend to rely on email and periodic meetings.
When work roles require access to data across line of business apps, integration is seen as more important than advanced features.
When deciding which cloud platform is best, consider how you and your team work now, as well as how you want to work in the future. Map these requirements to the cloud infrastructure and ecosystem you intend to build to ensure that you do not create roadblocks to your own success.
---
Complete our Which Cloud Survey and we will provide you with a custom Assessment and Recommendation report.  Normally a $895 service, it is yours free and without obligation through August 2017. Click here for more info and to start the survey.
0
0
Allen Falcon
https://www.cumulusglobal.com/wp-content/uploads/2021/08/cumulus-15-years.png
Allen Falcon
2017-08-07 17:28:29
2023-04-28 14:30:53
How you Work Influences Which Cloud Platform is Best for You