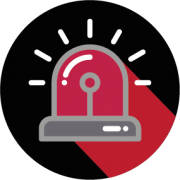 As we are reaching out to customers and others in our network, we are seeing about 15% of business with serious phone problems.  The most common issue is that the person answering the business' phone is unable to forward a call to other employers, nor can they provide a direct number without sharing a private home or cell phone number. It is more difficult to keep your business moving when you cannot properly answer calls.  Call backs and emails only go so far.
The good news is that you can use cloud-based, voice over IP (VoIP) phone services to solve this problem without replacing your current phone service.  And, several vendors are offering free services to small businesses.
How it Works
We effectively overlay a cloud VoIP service over your existing phone system/services.
We setup a VoIP phone service for your business, but do NOT port over your existing numbers.
We auto-forward your current business lines to the VoIP service
Within the VoIP services:

Employees can, answer and make calls using "Soft Phone" software on the computers or via a app on their smart phone. The cell number remains private.
We can setup groups or departments that simultaneously ring multiple people, or round-robin in a team, to ensure inbound sales and service calls are answered.
Use the embedded voice mail, or forward calls back to an individuals normal extension/voicemail (depending on system capabilities)
Enable texting/chat services (in most VoIP services), if needed.
Integrate audio and video conferencing services, if needed.
Several VoIP providers we work with are offering multiple months of free service. While they are hoping you like the service enough to switch permanently, this is an affordable temporary solution.
Call us or email us for more information.
---
0
0
Allen Falcon
https://www.cumulusglobal.com/wp-content/uploads/2021/08/cumulus-15-years.png
Allen Falcon
2020-04-25 12:15:12
2020-04-25 12:15:12
Solve Your COVID-19 Phone Issues